Adult Day Center 101: What You Need To Know
As you age, there may come a time when you need help and assistance throughout the day. Maybe you have a parent who is reaching the point where spending long hours alone is no longer in their best interest. Maybe it's forgetfulness about when to take medicine or the risk of a fall that keeps you up at night worrying. You want to do what's best for them but also want them to feel valued and to keep their independence.
For some, becoming a caregiver for a family member fits seamlessly into daily life. However, for many who choose to take on the job, there is a need for additional help. It can be difficult to walk the fine line between supporting mom's independence, keeping her safe, and balancing the rest of your life. Perhaps, you're caring for a spouse, parent, grandparent, or another family member. They may not need a nursing home or independent living facility, but shouldn't stay home alone for a long time. In-home nursing care is expensive and provides no social interaction. This isolation may lead to depression. This is where an adult day center may be the best answer.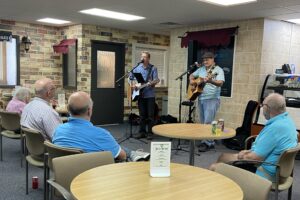 What Is an Adult Day Center?
An adult day center is an alternative to traditional assisted living and in-home care options. This program offers support by creating an environment where a person can maintain their independence and socialize with other people. An adult day center provides all-day engagement, involvement with peers, along with assistance with daily care. For example, they help with personal grooming, medicine, and of course tasty meals.
Another benefit is peace of mind and flexibility for the family caregiver. You know your loved ones are cared for while you work, run errands, or just take a bit of time for yourself.
What Are the Types of Adult Day Centers?
If you're looking at adult day centers, you might be wondering about the different options. There are different kinds of centers for adults. Here are some examples:
Social Day Center
Social day centers usually focus on engaging your social skills. It's a community where people build friendships and participate in activities with others. Social day centers may offer the following:
Musical Entertainment
Art Sessions
Light Exercises
Discussion Groups
Mentally Stimulating Games
Local Outings
Additionally, professionals sometimes offer medical and health support. An adult day center can provide social services, like counseling and support groups for your mental health.
Specialized Adult Day Center
These programs are offered to seniors who experience cognitive challenges. Those diagnosed with Alzheimer's or dementia may require a specialized adult day center. Activities are tailored to the individual needs. Plus, professionals here are trained to provide a safe and secure environment.
Adult Day Health Center
An adult day health center, on the other hand, focuses on both therapy and social activities. It is geared towards individuals who require some medical attention. Health professionals in these facilities can assist with speech therapy, occupational therapy, and physical therapy.
Trust a Reputable Adult Day Center
If someone you know needs daily care, you might consider a day center. At Then & Now Adult Day Center in Madison, WI, we foster a community where members can enjoy activities like crafting, yoga, daily outings, animal therapy, and more. Contact us today to learn more about our programs.