Is it Time to Find Help Caring for a Loved One?
Perhaps you're caring for your Mom on your own. It's normal to want to be with her during the most challenging time of her life. However, as your Mom ages, she'll likely require more care than most people are able to provide on their own. This can be tough to manage, especially if you feel like you're not giving her enough time and attention. Most adult children have trouble coming to terms with needing help caring for a loved one. However, there are ways to ensure your Mom gets the care she needs, even if you can't be there all the time.
First, it's important for you to acknowledge that it's okay to ask for help. This way, you can provide your Mom with the attention she deserves without stretching yourself too thin. Here are some signs that you should consider seeking assistance: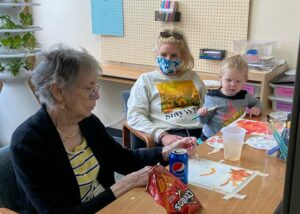 Alzheimer's and Dementia
At the onset of either Alzheimer's or dementia, your Mom will experience a lot of changes that will challenge both of you. She may begin to misplace her things or forget information such as names and locations. In addition, she might not remember to take her medication, eat, or even dress appropriately for the weather.
If not looked after properly, it increases her chances of getting sick. To accommodate this increasing need and protect hersafety without sacrificing your own, it's best to consider additional care.
Depression in Seniors
Many seniors suffer from depression because of the significant changes in their lives. It is hard to adjust to a life where your Mom is less independent. After all, she used to be the one to take care of everything for you! Maybe you'll notice she's lost interest in doing things she used to enjoy or she often talks about feeling sad. Negative emotions might be accompanied by aggression, and since you're the one caring for her, you are more likely to be the target of the outbursts.
Social interaction is a great tool in battling depression. There are senior care facilities where your Mom can mingle with others and do activities in a safe environment.
Inability to Perform Day-to-Day Tasks
Caring for anyone all by yourself is more challenging; it's especially hard if they're already unable to perform everyday tasks like they used to. With a busy schedule, you can't always be there to help them. To make sure your Mom receives the attention she deserves, consider getting additional help.
Caregiver's Burnout
Although the priority is to ensure the well-being of those you care for, it doesn't mean you should sacrifice your own. If you're suffering from things like chronic headaches, elevated blood pressure, or depression, it might be time to get help.
Don't feel guilty about admitting you need an extra hand. You can only provide the best care if you're physically and mentally sound.
Seek Quality Help Caring for a Loved One
If you're looking for an adult day center, turn to us at Then & Now Adult Day Center in Madison, WI. We help your elderly family members live as independently as possible and thrive in a safe environment. Contact us today.